I was up bright and early for my second day in Florence. My first day was full of sightseeing, and this next day would prove no different. I booked a tour to explore more of Tuscany for this day, so I set out to meet my group at the bus stop at the Santa Maria Novella station. I stopped at a nearby McDonalds, much to my hesitation, to first grab some breakfast. I'd heard that their restaurants had a higher quality of food, and that rumor proved to be right! Just like most cafes I encountered in Italy, they had an espresso bar and a myriad of pastries to choose from. I settled for an espresso and croissant, the perfect meal on-the-go.
I then walked to the station and boarded my bus, where we got to meet our tour guides and learn the history of Florence. To my surprise, we passed the Florence American Cemetery with burials from WWII, as well as various monasteries surrounded by olive groves as we set out for our first destination, Siena.
First, we made our way to the Piazza del Campo, learning about the ongoing rivalry between Siena and Florence. We also learned about the 17 districts, or contradas -- each of them named after animals or symbols. These contradas were represented throughout the city on flags hanging off of homes in various neighborhoods. We shortly arrived at the square, known to host a horse race twice a year, called Palio di Siena.
Next, we walked to the Siena Cathedral, known for its intricate façade and art pieces inside, a few of which that were created by Michelangelo himself.
We then got some free time to explore the rest of the city before embarking to our next location for lunch.
A while later, we arrived at a farm in the popular Chianti region, where we got to tour the wine cellar, vineyards, and cow shed.
After our tour, we sat down family-style to enjoy a wine tasting and delicious Italian lunch. This was a great time we got to relax and visit with other travelers in the group on top of an INCREDIBLE view of the Chianti countryside.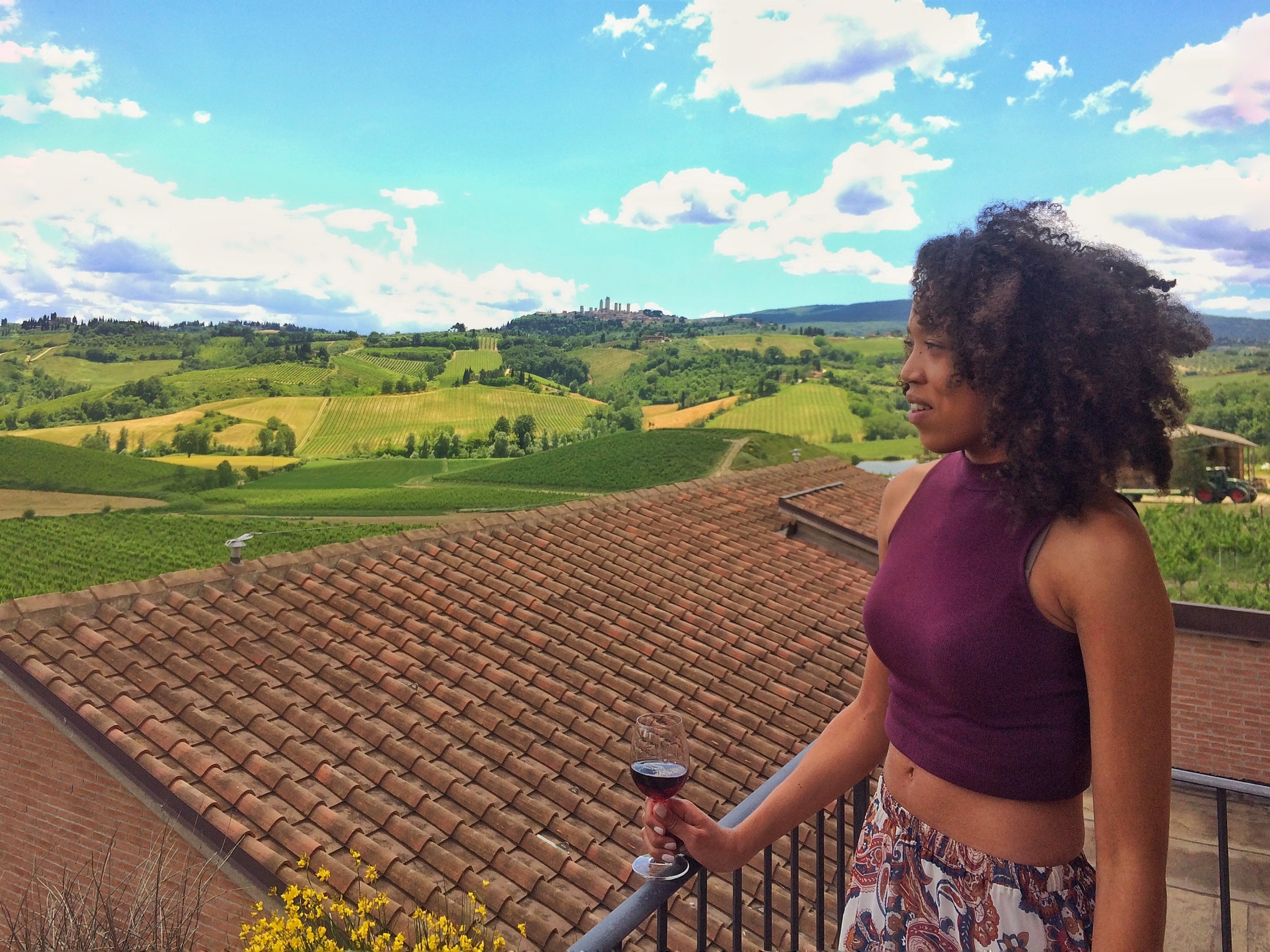 With our bellies full and a nice buzz from the unlimited Chianti wine, we boarded the bus and set out for the medieval town of San Gimignano. Here, we were strongly advised to visit Gelateria Dondoli that recently won the Ice Cream World Championship several years in a row. With my gelato in hand, the group had about an hour to explore the town.
We got to the bus and not a single eye was open as we ventured to the last stop on the tour, Pisa.
As we approached the Piazza dei Miracoli, our group disembarked from the bus and boarded an interesting mode of transportation, a train with wheels! This vehicle was used since cars were prohibited in certain areas of the city. On the train, we rolled around Pisa in style as we learned the history and got to see impressive parts of the city most would never hear of. Known for the popular Leaning Tower of Pisa, we learned that the city has a long history of destruction as families fought over ownership of the city throughout the 13th century.
Upon arriving to the square, we had some time to explore on our own and capture the ever-popular photos in front of the tower.
I'd purchased a ticket ahead of time to have the chance to walk to the top of the tower, where I was able to experience another magnificent sunset overlooking Pisa.
After soaking up all I could at the square, I once again boarded the train to the bus that got us back to the marvelous surroundings of Florence again.
I'd highly highly recommend this tour, as it was all inclusive in terms of cities visited, history, and an amazing meal.
Back in the familiar streets of Florence, I found myself in need of a delicious dinner. After settling down at a nearby restaurant in the Piazza della Repubblica, I enjoyed a the house soup, fish of the day, and of course, a glass of their finest Chianti wine.
The nighttime had arrived, and with another full day ahead of me, I sauntered back to my Florence home, full from both the food and the rich experience Tuscany brought me this day.
Have you had the chance to explore the beautiful Florence and/or Tuscany region yet? What were some of your favorite highlights? Comment below!
Interested in more of my Italian adventures? Check out my daily posts from Venice, Positano, and Rome!